Eastern White Pine Floors
Eastern White Pineis regarded as America's most time-honored wood for wide plank floors.
Huggins Eastern White Pine floors are hand selected from the heartwood of timbers grown exclusively in New England where the cold climate allows the trees to grow slower and reach full maturity. This floor provides a smooth grain, beautiful knots, and versatile finish capabilities.
Eastern White Pine is known as a softer floor, that will naturally wear over time. But this softness should not be confused with the longevity of the floor. Eastern White Pine floors have graced homes along the Eastern Seaboard for over 300 years. As you live on the floor, it will get harder as the fibers of the wood compress. Over time the character that develops will add warmth and charm to your floor, and your home.
The Emerson site has examples of many different types of ceiling fans, all of which we can install.

Many customers have found just the right object or accessory to customize their new construction at this site.

Shown here is a Providence Arch House Marker.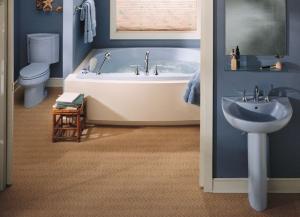 We proudly install all Kohler products. We receive a special contractor's rate from Kohler, so prices for materials will be less expensive than shown on their site.